Finding the "Why" with Van Ausdall & Farrar
Professional collaboration is an important part in any growing business. Creating relationships between companies in related fields—as well as unrelated areas—strengthens your business and grows your network. At Studio13, we often refer companies to our contacts that can fill their need and find that other businesses do the same for us!
This week, our Journal features work with not one, but two wonderful clients connected through the power of professional networking!
The first is MEMO Marketing Group. If you're a long-time reader of our blog, you might remember them from our feature on some stand-out headshots published in the summer of 2017. MEMO has been changing the marketing scene of Indianapolis by focusing on the strategy of marketing and show off why your target demographic should choose you over your competitors.
MEMO's analysis of the "why" of business truly connected with our second client on this job: Van Ausdall & Farrar, an office technology and business solutions firm. This firm hired MEMO to work alongside their marketing efforts, and MEMO hired us for photography.
Van Ausdall & Farrar sells printers, computers, and telephones and has for decades. But they don't stop there. As companies shift to a more digital workplace, their business model has grown to include document storage solutions, information technology, and digital infrastructure.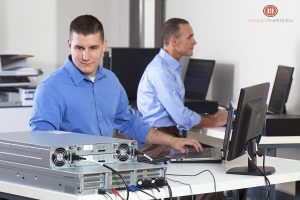 Van Ausdall & Farrar views their people as the reason for the "why" of their business. There are surely other business out there selling the same products, but the difference in Van Ausdall & Farrar is their team of employees. Not only are the staff knowledgeable about their products and various areas of expertise, but the whole company culture revolves around a relationship-based team. Their goal for this shoot was to show off those people that made their company so special.
We started this job as we start many jobs: with an all-important location scout and brainstorming session. Lesle took note of the important architectural features of the space, as well as lighting, furniture, and overall theme the client was looking to capture in their photography. Once back at the office, she made a production schedule, a game plan if you will, to make the shoot run as smoothly as possible. The team walked onto the set that day as prepared as possible for the multiple areas and shots we needed to complete.
The best way to describe our work with Van Ausdall & Farrar is environmental collaboration shots. We posed some of the employees in their working environment to show off their process. We worked through the sales and demonstration, repair and maintenance, warehousing and stock, and the strategy teams. We were able to showcase each department doing what they do best while highlighting the importance of the human aspect of their work. This very full day ended with the honor of creating new photographs of the President of the company.
We strive every day to give our clients what they need to accomplish their marketing goals. We love the feedback that Jeff Jenny, the Vice President and General Manager of Van Ausdall Farrar gave us: "In service organizations, it's people that make a company. And when you market your business, it helps to lead with your people. Lesle Lane and Studio13 had the experience we were looking for and did a terrific job." We hope that this is another professional relationship that continues to grow over time and will be mutually beneficial for their team and ours!
Share This Story, Choose Your Platform!