Wilhelm's Parking Garage at Carmel Civic Center
FA Wilhelm has been a long-time loyal client of ours. Wilhelm provides expansive construction value through flexible delivery methodologies including construction management, design-build, general contracting, integrated project delivery and trade specialty contracting services. As one of the largest employers of construction labor in the Midwest, Wilhelm prioritizes hiring passionate and creative people to help develop safe, people-oriented spaces.
This time, Wilhelm needed some photography of a new project: the parking garage at Carmel Civic Center. The client wanted both daytime and dusk shots of the exterior, as well as both exteriors and interiors of stairwells and entrances. Additionally, we were asked to capture some detail shots to show off special window features and how the garage connects to the existing structures in Carmel. Alongside Wilhelm, we also worked with the City of Carmel to get this project done.
This project was interesting because the structure had to be built within the confines of already existing structures in downtown Carmel. You might be thinking that parking garages aren't typically very exciting–and for the most part, you'd be right–but we thought this one was beautifully made. Of particular interest was the roof, which boasts an interesting architectural feature car cover: city parking that was both functional (keeping snow off the vehicles) and decorative.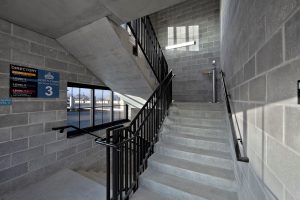 The biggest challenge for us was that it was cold when we got the photos, but we don't think you can tell! The end result was satisfying for everyone.
Share This Story, Choose Your Platform!