I don't know about you, but we are enjoying a very busy summer! There's nothing more exciting than being engrossed creating what you love—and that includes today's client spotlight journal. This client and us have something in common: we love doing unique projects. This week's unique project comes from our work with a new client: ESCO Communications.
ESCO is an Indianapolis-based communications firm that works with the newest technologies around to provide the best audio-visual, security, mass communications, and healthcare solutions. ESCO has recently completed a project at the Indianapolis airport and needed some photography to capture just how big this was (both literally and metaphorically).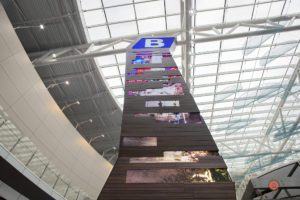 Heather Cox at CE Solutions was kind enough to refer us to Brittany Burke at ESCO Communications to photograph their amazing Way Finder installation that was designed by another Indianapolis firm, Synthesis Architecture. Although we've worked for the Indianapolis Airport Authority doing headshots, we had never actually photographed the airport, so this was a new and exciting privilege for us.
Sometimes what communications companies create is above what can be understood by the visual medium of photography. Luckily, the architectural and graphic design nature of this project lent itself perfectly to our skill set. The Way Finder installations were designed to help guide airport traffic, inform travelers of important security information, and give off a feeling of the spirit of Indianapolis.
In some ways, this project combined the skills of architectural and product photography:
For the architectural-shots, we wanted to show off the scale and grandeur of the Way Finder pillars in their "natural habitat". This needed a unique perspective to capture the pillars in use during a normal travel day—and how large they are compared to a person.
For the product-like shots, we wanted to focus on the details in the design. These pillars were created with dark-stained wood and inlaid media screens (like what makes up a jumbo-tron in a sports complex). For this we took a moment to zoom in and find the flow of the grains and the artistic way in which these two elements were brought together.
And there was a third type of image that captured both size and detail! That shot did not come without hard work. During of the middle of this busy day, many travelers witnessed a photographer lay down on the ground and shoot straight up toward the ceiling. Maybe they walked away with a story to tell, but so did we, and we'll do just about anything to get the perfect shot!
Share This Story, Choose Your Platform!