Studio 13 Best in Category Awards
When working with some of the most talented professionals around the Midwest, we are bound to witness some pretty incredible things on our photography shoots. Without all the pomp of an awards show, we would like to acknowledge just some of the best of what we've seen:
Best use of Personal Protective Equipment
This award could also be called most unique name based off of its winner: our project with Big Ass Fans. While on their site, our crew had to be alert to the dangers of chemicals and industrial machines, being cautious not to injure themselves or the equipment. Because supplemental lighting was so essential to this shoot, and show off the process of metal ionization, every member of the team suited up to operate safely and get the job done.
Best use of a Props Budget
The winner of this award not only used their props to the fullest extent but planned ahead for props that took their photographs from great to excellent. The winner is IDO Incorporated and the job we photographed at the Fusion 54 building. IDO is a firm of interior designers, so stellar props are imperative for completing their vision for a space. Watching our clients complete their vision was a great experience and finishing out each room made our images gorgeous.
Best use of Rental Equipment
A project shot partially outdoors and all over the city of Indianapolis surely deserves this award. Binatone, a global distributer for Motorola, wanted a variety of images for promoting their extensive line of headphones and earbuds. With 3 different looks (active, professional and energetic) we had to make sure the lighting and stylists had all the power needed. Without the assistance of Hammer Lighting and Grip this project would not have had near the success. A great rental house is a friend indeed!
Best use of a Food Stylist
An effective food stylist is an artist. Sure food stylists know little food tricks, like how to keep ice cream from melting during a shoot, but any good one will know so much more! This award goes to the project with Fresh Thyme Market and Louis Rub because the images just wouldn't be the same without his touch! Louis brought Thanksgiving dinner to life and made the vibrant colors of each and every food pop. The artistry of food styling and that attention to detail can give any shoot an extra boost of professionalism.
Best use of an Art Director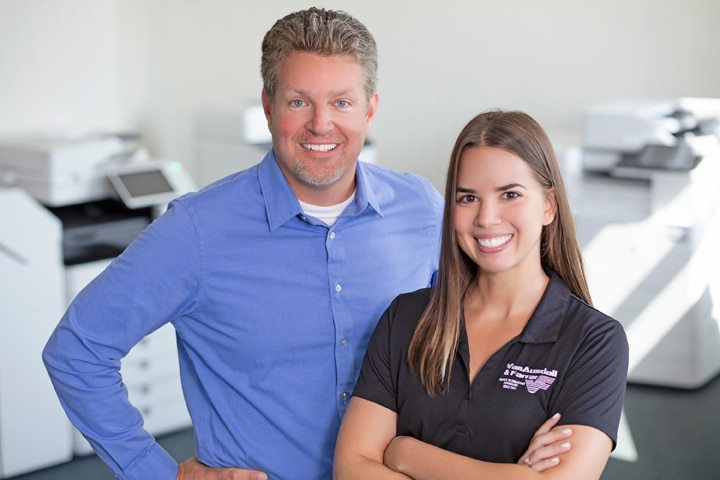 Working through a marketing agency often means that a photographer never comes into contact with the end client, making brainstorming and clear communication before a shoot a necessity. This is the case when working with MEMO Marketing Group on behalf of Van Ausdall & Farrar. Under the guidance of the MEMO team, we were able to have the guidance of an art director for the entire day, clarifying the end user's goals and vision. Although this might increase the cost of a shoot, it makes sure the images fully realize the client's vision and fits their needs.
Best use of a Style Guide
When a company chooses to forego an art director, a style guide is an effective tool a photographer can use to achieve the look you are going for. This is exactly what MilesHerndon did when we shot for CORE Planning Strategies. When MilesHerndon created a new website for CORE, they sent us a series of images that gave us cues for lighting, angles, and even which lenses to use. A style guide can give experienced photographers the tools they need to be successful and make the ad agency confident they've relayed both the clients wishes and creative direction.
Best use of a Makeup Stylist
Do you think that makeup stylists are reserved only for the rich and famous supermodels? Think again, because the best use of a makeup stylist we've seen is on set with CSi Advisory Services and ProSoto Beauty Studio. The stylists with ProSoto made sure every one of the CSi team were camera ready and eased any nervousness by making each person feel special. It didn't matter if a someone was unfamiliar with makeup or tended toward makeup that is unflattering in the eye of a camera, hiring a makeup artist made appearances the same style across the board and made it one less thing to worry about!
Best use of a Collaborative Client
It should be no surprise that One10 Studio is the highlight in this category. They are, at their core, an architecture firm that collaborates with their clients to get the best results. Of course, every photographer will have their unique thumbprint on each shoot they do, but the client has the right to impose their touch and make the images reflect who they are too! When we have clients who collaborate with us, like every shoot with One10, the client's vision and photographer's vision blend into one—which only elevates the end product!
Best use of Multiple Assistants
The project that wins this award is quite possibly one of the most extensive we've ever undertaken. When IMMI asked us to complete an image library of a variety of safety equipment they produce, we knew that more man-power was crucial in completing this in a timely manner. So we brought two assistants to this shoot—allowing two full photography sets to run all day long. This strategy kept the price per shot low while capturing everything the client wanted.
Best use of Image Compositing
Last and certainly not least, is mention of our work with Johnson Memorial Health. The marketing director at JMH wanted a shot of doctors from a variety of specialties all in one image. But when working with clients that have very tight schedules such as doctors and lawyers, we have to keep our time with them to a minimum so they can continue on with their day. To accomplish this shot, we photographed the doctors one by one when their schedule allowed and brought them together in post-production. We do lots of post-production in-house, but this project needed a little more, so we called in the help of Lee Harmon at The Harmon House. Just like healthcare, photography is a team effort!
We are so grateful and honored to work with such great companies that make our work even better.  Congratulations to all winners!
Share This Story, Choose Your Platform!