Portrait Professionalism with KKC Legal
Business portraits are a large portion of what we do.  A good headshot immediately elevates any worker's professionality and polishes the image of any business.  We do all kinds of portraits in a variety of locations–inside or outside, environmental or studio–whatever it takes to suit the needs of our client.  We received a referral for this particular job from our Accelerent partner Westpoint Financial Group, an organization dedicated to providing resources that help their clients fulfill their financial dreams.  It's always flattering to receive a referral, particularly from other competent working professionals!
Our client for this project was Katz Korin Cunningham, a law firm located in the heart of Indianapolis along the Cultural Trail with a variety of services in a wide number of practice areas, including expertise in complex commercial litigation, health care dispute resolution and regulatory matters involving state and federal governmental agencies.  Law firms want their images to reflect their ability to be a reliable and trustworthy resource for their clients.  Headshots are often a potential client's first impression through the firm's website.  For this particular project, Katz Korin Cunningham asked us to match the firm's existing style and provide some solutions to their image consistency issues.  The firm was going with a clean, streamlined look for their new website, meaning that the background for all the headshots needed to match their style and site background.  This keeps the focus on the hard-working professionals represented in the executive portraits.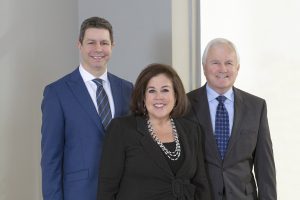 Before we officially started the project, our client requested to do a trial run where we photographed one of the newest attorneys in the studio.  When KKC Legal saw the sample portraits, they were confident that we could meet their needs and asked us to come to the office and photograph more attorneys and team members as well as groups.  All in all, we provided 10 headshots and 5 group photos during this shoot at the KKC offices.  We are thrilled to have this new client thanks to our partners at Accelerent!  And, we are looking forward to our next project for them — an architectural photo shoot — when the remodel of their building, the historic Emelie building, is completed.
Share This Story, Choose Your Platform!