On the Road Again for American Structurepoint
Here at Studio 13, we absolutely love to travel for our clients! You might be wondering: Why would someone decide to ask us to travel outside our typical market? There are several reasons! First, we provide consistent high-quality product for our clients, whether we shoot in Indianapolis or (in this case) Elizabethtown, Kentucky. Second, we can be trusted to work unsupervised, meaning our clients can be sure that we will do what we're hired to do whether they're watching us work or not. For this project, we had the pleasure of working with American Structurepoint to capture the Eye Surgery Center of Elizabethtown.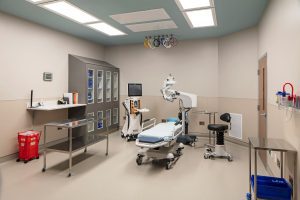 American Structurepoint specializes in delivering innovation and vision in Architecture + Interiors, Engineering + Infrastructure, Planning + Economic Development. They work with clients on everything from conception to completion of a given project, and with hundreds of in-house professionals and consultants working across 11 disciplines, American Structurepoint works hard to deliver the best design solutions every time. We at Studio 13 know that American Structurepoint is a hands-on organization, which is why we appreciated them placing their trust in us to get the job done!
Our original goal was to arrive in Elizabethtown in the early evening hours and capture the Eye Surgery building at sunset, then return the next day to finish up the interior shots. However, weather in Kentucky isn't any more reliable than in Indianapolis, and upon arrival Lesle felt that the sky was a bit weak and wouldn't provide all the shots we desired. Instead of settling for the evening's work, Lesle got up bright and early the next day and captured some beautiful sunrise shots as well. This way, the client had options to make sure that the building looked its best and that the tone of the shots matched the client's intended purpose. We finished up the job with capturing a comprehensive coverage of the interior spaces–a process made much easier by choosing a shooting day when the center itself was not seeing patients.
We are so grateful for fabulous clients like American Structurepoint!
Share This Story, Choose Your Platform!