On-Site with Site Architecture
We love it when clients use us multiple times per year, but that just isn't feasible for every organization. Sometimes we go multiple years between shoots, but every time we see our old friends again, we are just thrilled! That was the case with the amazing folks at Site Architecture. This season we were able to capture two great sessions with them. First was the Wheeler Mission Women's Center, and after that we had the honor of working on the new Needler's in Carmel, Indiana (which is our spotlighted project).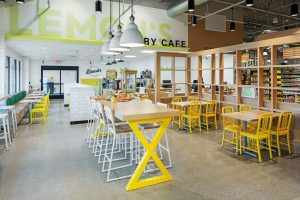 Site Architecture is a firm with over forty years of combined professional experience in the field, with the unique ability to provide integrated architecture, interior design, and landscape architecture design services all through the format of a small, interdisciplinary firm. Their mission is to provide honest, professional services to clients through thoughtful and creative solutions. Although Site is big on concepts and design, they try to be thoughtful about how those designs will impact the end users on a practical basis. This involves a deep understanding of human behavior, especially when designing something with everyday use like a grocery store!
Working in a grocery store is second nature for Lesle, as her first big client was Marsh Supermarkets. This project was a wonderful opportunity for her to get back to her roots. The ideal time for photographing a grocery store is the period of time after it's stocked but before it opens to the public. That leaves a very small window of time, and a lot of very busy people to maneuver around! We were so fortunate that the employees were gracious and gave us at Studio 13 the freedom to work efficiently to get it all done.
What a great day!
Share This Story, Choose Your Platform!