Meridian Mark I & II with Zeller Realty Group
More and more, we find ourselves working with property managers or owners of buildings who are looking for marketing materials for their properties. They use our images to encourage the interest of new tenants, so it's important to them that we make the properties look perfect. Good photos are an excellent selling point!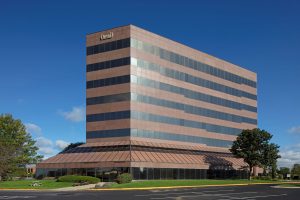 For this project, we had the opportunity to shoot some interesting commercial real estate with our client, Zeller Realty Group. Although Zeller is headquartered in Chicago, Zeller owns and operates assets in Colorado, Georgia, Illinois, Minnesota, Ohio, Oregon, South Carolina, Texas, Wisconsin… and Indiana! The work began with a location scout during the late summer. We traveled to Carmel to see how best to capture our two target buildings, Meridian Mark I and II.
Once it was time for the shoot, we put on our safety vests and the Studio 13 team braved Meridian street traffic to stand in the middle of a roundabout to get the shot we needed. The client wanted to see both buildings in the same shot, in addition to the more detailed individual images, so the buildings could be marketed as a pair. The property also featured a couple of ponds, large parking lots, and some A/C equipment to work around–every variable must be considered when capturing still images.
We made two different trips to the site to capture images during the day and at dusk, and we were thankful the weather cooperated! The team at Studio 13 does everything we can to make our clients look good, so we also utilized special, detailed editing to meet Zeller's needs. Everyone was happy with the results!
Share This Story, Choose Your Platform!