Joining Forces with Johnson Memorial
With an ever-increasing need to promote one's online presence, companies are realizing the importance of consistently updating their imagery to keep their branding fresh. That's why we have ongoing projects with places like Johnson Memorial, where we help them maintain an updated image library for advertising and marketing purposes.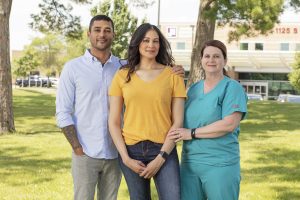 Johnson Memorial is a nationally recognized network of physicians and advanced practice providers that provides healthcare to Johnson County and surrounding areas with a focus on quality service and a family-like culture. Johnson Memorial's state-of-the-art emergency/outpatient services facility and comprehensive rehabilitation center is enabling them to serve their community even more effectively, particularly with the present ever-changing landscape of medicine.
Visual representations of a company's work are key to reaching online viewers, so our goal was to provide Johnson Memorial with enough images to produce engaging digital content. We assembled a fantastic team to help us create scenes which felt modern and bright. Good weather meant we were able to set up outside, combining the lush landscaping and sleek architecture to create some beautiful backdrops for the images. The focus of the project was the people behind the organization, so we had the pleasure of capturing the heart and soul of the Johnson Memorial family. Our collaboration led to some very satisfying results!
Share This Story, Choose Your Platform!