Healthy Collaboration at IU Health
One of our recent photoshoots was at the sleek and modern IU Health Joe & Shelly Schwarz Cancer Center located on the North Hospital campus in Carmel, IN.  This was a wonderful project from my perspective because Four Point was already a client of mine.  An Indianapolis-based company, Four Point Design provides space planning, interior design, and furniture specification for clients in healthcare, higher education, and workplace markets.  After such a positive experience, I was thrilled to get another opportunity to work with them and have a first chance to work with the architecture firm MSKTD & Associates.  With multiple offices in Fort Wayne and Indianapolis, MSKTD offers clients a full range of comprehensive design services, from architectural planning to engineering and design solutions.
Working with these two amazing companies was a treat in itself, but what made the opportunity even more exciting was the chance to photograph the addition to the campus itself.  This 88,000-square-foot facility houses two stories of incredible healthcare amenities.  Some of the highlights of the project include the cancer center, a connector corridor to North Hospital, and a new driveway system and pedestrian walkways for the cancer center.  The teams from Four Point and MSKTD were uniquely qualified for this endeavor due to their detailed understanding of the North Hospital and how the new facility would be used and integrated on the healthcare campus.  Helping patients receive leading-edge oncology care and doing so in a peaceful and comforting environment was a priority.  The design team collaborated to develop a unified design that met the goals of everyone involved–and they succeeded wonderfully.
The facility was a beautiful intersection of design and functionality. As you might imagine, getting into medical facilities is always a challenge because once the facility is in operation, my team and I struggle to photograph the space while remaining HIPAA compliant. The medical world is one of privacy and professionalism, and we wanted to do everything we could to respect and reflect those principles. Our teams got permission to go into the building right before it opened so we were taking pictures while the finishing touches were still being done–a situation that's rather common in the construction world.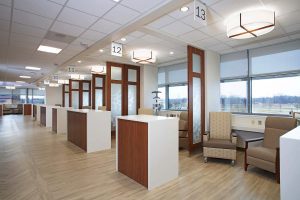 This project was interiors only, which posed several unique challenges. The designers did a great job of making each part of the space feel welcome, but it was an undeniably large installation. Making the decision of how much or little of the space to photograph is always the ticket to a successful shoot, and with so much to show off, it was surprisingly hard to decide! Luckily, both Jamie Raymond (Four Point) and Brent Crum (MSKTD) have a fantastic eye, and we all worked beautifully together to choose angles which showed the space in its best light. It was a delight to have the opportunity to work with a couple amazing companies and to help promote the new healthcare center!
Share This Story, Choose Your Platform!