Flying High with Wilhelm, Schmidt, and Slam
Our recent work with F.A. Wilhelm Construction, Schmidt Associates, and Slam Interior Design was a massive project. This expansive job was completed over six months and involved five trips to the location to gather interior, exterior, and drone shots of the new Community Justice Center. One of our favorite parts of this job was watching the drone operators at work! We've recently expanded the business to offer drone images on top of our regular services, and we are loving the unique angle it provides to our clients.
The strategy for this project came in coordinating all three clients, who all had different interests and focuses for their images. The construction company wanted the images to reflect the construction aspects, the architect wanted to focus on the overall architecture, and the interior design company wanted to show off the intricate design details.
We also had to coordinate with the legal and security teams of this building. The center is a high-security building, and we needed to stay within the Supreme Court guidelines of what could or could not be photographed. Before the job could move forward, we had to petition the Supreme Court for permission to shoot in the first place, and then the court had to receive proofs and give approval of our images before they could be delivered to any of the clients. The drone operator also had to get approval from the Col. of the sheriff to fly his drone at this high-security site—but the results were totally worth it!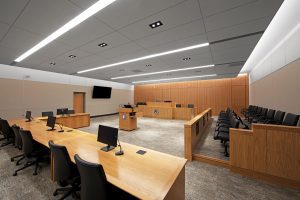 The facility itself was expansive and photographically complex. It was a total of 12 stories high and contained a host of complicated features: multiple light sources, rooms with no windows, transportation tunnels with only fluorescent lighting, holding cells with double-sided glass, hallways with gigantic windows, and skyline views. However, we at Studio 13 have never backed away from a challenge!
We loved that this project worked on the "muscles" of problem-solving and highlighted the professional balancing act of making a client's life easier in difficult situations. Construction professionals, architects, and interior designers were all debating about a detail of the project, and Lesle had the opportunity to stay calm amidst the discussion and solve the problem from a photographer's perspective.
The best work can happen under pressure, and we are happy with the results of our big shoot!
Share This Story, Choose Your Platform!