We love repeat business and long-term, loyal clients, because who wouldn't love to work with friends? Expanding that group of friends is a privilege, and it's always wonderful to bring new businesses into the Studio 13 family! Our newest addition to the circle is Synthesis, an architecture and design firm that understands the importance of loyalty. Their goal is to make every step in the design process an enjoyable, interactive experience. Rather than limiting their scope of understanding to how buildings, spaces, and sites relate to one another, Synthesis works to make people's lives better.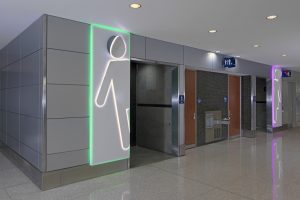 We at Studio 13 knew from the start that this would be a fun project, especially due to the unique location. Working at the award-winning Indianapolis International Airport is always a pleasure, but most of the time comes with challenges due to the sheer volume of foot traffic. This particular project was actually photographed in the early days of COVID-19, and working around travelers was a bit easier than it would be in other typical sessions. However, this photoshoot was no easy endeavor: the subject matter was unique in nature and presented the need for creativity and accuracy.
The focus of this project was to highlight the work Synthesis had done in collaboration with the airport. Synthesis designed some fresh new way-finders for the restrooms with artistry and architecture in mind. The signs are three-dimensional in nature, and were designed with two goals in mind: help people find their desired destination, and add some creative interest to something that is often considered purely functional in nature. We think they did a fabulous job in reaching those goals!