As the year turns around, we find ourselves looking toward the new while remembering the past. We strive toward a newer, better version of ourselves while reminiscing over the "good ol' days." This concept applies to our business too! We've recently had the pleasure to work with a new client who was first a friend from years ago: CSi Advisory Services.
CSi is a retirement plan consulting firm that works with their clients in the areas of investment outcomes, participant communications, financial coaching, and wealth management. CSi has been in the industry for 50 years—and is female owned and managed. Their goal is to give every client a roadmap to help them retire on their own terms.
Up until recently, CSi had their own marketing team, but in an effort to turn their full attention to their clients, they decided to work with an outside firm. 401k Marketing came highly recommended from others in the financial industry, and after understanding CSi's core values and goals, they set out to create a consistent business message across all platforms.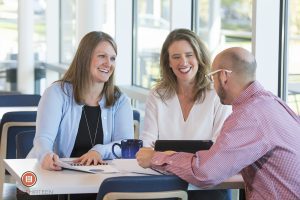 The first step was new images of the CSi team—that's where we come in. Kristi Baker, a Managing Partner at CSi, is a family friend of Lesle's. She remembered that Lesle has been a photographer since they met and contacted Studio13 to capture new headshots, collaboration images and group photos of her, her partner Kelli Davis, and their team.
Our first location on the day of our shoot was a conference room in the amenities building at Parkwood Crossing. Straight away, Brenda Sotolongo began on hair and makeup for the employees being photographed. Since we shot the building previously for the architect, we knew a lot about the space coming in. The conference room offered a lot of available light as well as space for changing rooms, hair and makeup, and equipment storage. We were able to do individual headshots of the team members as they arrived.
The second location was the lobby of CSi's office building. The existing light in this space was not as airy as the first one. There was much less day light and a good bit of foot traffic. To accommodate this environment, Lesle ended up choosing a lower angle on the subjects in her shots, thereby incorporating the architecture and avoiding the many pedestrians traveling through the lobby.
In our third and final location, CSi's office spaces, where the conference room had no windows which posed a slightly different look from the other images. Lesle really had to use the lights to their fullest while staying modest to not appear artificial. At the same time a high angle was in order to make the people the center of attention.
Altogether, the way we would describe CSi and their team is open to all our ideas while knowing exactly the look they were going for. The team had to bear with outfit changes, walking from location to location, and posing everyone just slightly different to achieve the number of looks the marketing team was looking for. Not only did they grin and bear it, but everyone remained kind and helpful in the process. We were glad to spend a day collaborating with an awesome company made of awesome people!
Share This Story, Choose Your Platform!